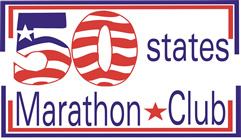 50 States Marathon Club Application
Name______________________________________ Date of birth _______________
Address____________________________________ Sex M/F ______
______________________________________________
Home phone ____________________ Other phone ________________
E-mail address _____________________________________________________________
Okay to list Email on web page? Y/N _____ Okay to list state of residence? Y/N _____
Type of membership: (check only one)
______ Full membership (completed 50 states) $10
______ Standard membership (completed 10 states but fewer than 50) $10
$_____ Donation to the club
$_____ Total of fee and donation

Upon submission of this application, I agree to assume all risks associated with participation in any activity of the 50 States Marathon Club. I release all sponsors, officers, board members, employees and any person assisting on a voluntary basis from any claims of liability resulting from my participation.
Signature_________________________ Date___________________
You may be requested to include a copy of verifiable documentation for each of the races (i.e. finisher card, race results listing, note from race director, etc.). Please read the club rules before submitting this application.
Mail application and check payable in US funds to 50 States Marathon Club, P.O.Box 15638, Houston, TX 77220-5638
If you are from a foreign country, please pay in US cash or by credit card through the online renewal The bank charges $20 to convert foreign checks or money orders to US funds (even if it is payable in US funds). Checks must come from a US bank.
Email your name, state, & email address to steveboone@aol.com so that we will be looking for your application. As soon as we receive and process your application, we will send you a welcome packet with information about the club.
List of marathons run in each of ten states (date, finishing time, city/state):
_________________________________________________________________________________________

_________________________________________________________________________________________

_________________________________________________________________________________________

_________________________________________________________________________________________

_________________________________________________________________________________________

_________________________________________________________________________________________

_________________________________________________________________________________________

_________________________________________________________________________________________

_________________________________________________________________________________________

_________________________________________________________________________________________
Total completed marathons _______ Total Canadian provinces _______
Total completed ultra marathons _______ Total foreign countries _______
Total career marathons & ultras _______ Total continents _______

Total US states _______