Oh Boy Marathon
Run Connecticut the Easy Way

Enjoy running, food and fun. This is a runner centered race for runners by runners.

Consultant Gene De Fronzo, more than 650 marathons, 50 States 10 times.
Distances: 13.1 miles, 26.2 miles
USATF Certification #CT16018JHP
Date: Memorial Day. Monday, May 29, 2017.
Start Time: 7:00 AM No early start.
Location: Hamilton Park
Address: 110 Hamilton Park Road, Waterbury, CT 06705
Contact: Race Director - Ivelisse
Email: iacruz12@sbcglobal.net

Phone: 203-756-7408
Race Limit: Half marathon-100, Marathon-100
Entry Fees:
Half-Marathon: $50 thru 1/31/17 $60 2/1/17-3/31/17 $70 4/1/17-4/30/17 $75 5/1 thru race day
Marathon: $50 thru 1/31/17 $60 2/1/17-3/31/17 $70 4/1/17-4/30/17 $75 5/1 thru race day
Registration: ONLINE Registration with Signmeup.com (Click Here). ONLINE REGISTRATION CLOSED. Please print out a form. Bring cash or check to packet pickup.

NO TRANSFERS. NO REFUNDS.
Online Registration closes: Wednesday, May 24, 2017 at 10 PM EST.
Note: Runners under 18 years old, must get approval from ther Race Director and written consent from parents or guardians.
Cancellation Policy:
Race Director reserves the right to cancel the event due to severe weather, flooding, park closure, or in any other event or situation that could affect the safety of runners, volunteers, and race staff. If the event is cancelled, an attempt will be made to reschedule, but there will be no refunds.
Race Day Registration:
Email RD. iacruz12@sbcglobal.net Cash only. Please print out, complete and sign an application and take it to registration. Be there before 6:15 AM. T-shirts are not guaranteed on race day sign up.
T-shirts:
Registered by April 28, 2017 to guarantee T-shirts size. After April 28, 2017, t-shirts size are not guaranteed.
Time Limits (Walker and velocity challenged participant friendly):
Half-Marathon: 5.5 hours
Marathon: 9.5 hours

Course Description:
2 mile loops – Mostly flat with some slight, rolling hills
Half-Marathon: 6.5 loops
Marathon: 13 loops

Course Map: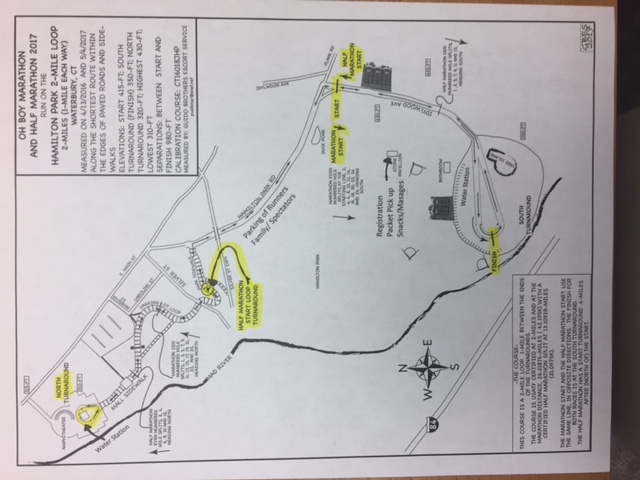 Packet Pickup:
Sunday, May 28, 2017 at Eugene DeFronzo PC, 61 Field Street, Waterbury, CT 5pm-7pm.
Monday, May 29, 2017 at Start /Finish Area Hamilton Park between 5:45 AM-6:30 AM on Race Day,
Pasta Dinner:
Pasta Dinner $20 at San Marino's Restaurant, 111 Thomaston Ave, Waterbury, CT 5-8pm Sunday May 28, 2017.

Parking:
Parking space on Hamilton Park Road
Aid Station:
At each 1.9 Mile Loop (Start/Finish).
Drinks: Water, sports drink, etc.
Snacks: Variety of chips, crackers, candies, trail mixes.
Fruits: Bananas, Apples, Oranges, .
Bag Drop:
There will be a drop bag location area adjacent to the Aid Station.
Toilets:
On the course near the start/finish area.
Finisher Awards:
Half-Marathon/Marathon – Custom designed medal
Pre-Race Announcements:
10 minutes before the start at the STARTING LINE.
Timing:
We are using chip timing!!
The course is certified. Certification code: CT16027JHP
Results:
Results will be available this website.

Course Rules:
1. Course will be open to the public during park hours. You should expect to seewalkers, joggers, baby-strollers, etc. Please share trail with them. Please do NOT run/walk more than 2 abreast. Yield to fast runners passing.
2. Parking Lot Crossings – The race does not cross any streets; however, there are few intersections at various parking lots. Signs will be posted to make park users aware that a "Race is In Progress". Please use caution while crossing parking lot entries.
3. Absolutely no littering
Volunteers:
Needed for various shifts and are greatly appreciated. Please contact Ivelisse 203-756-7408 iacruz12@sbcglobal.net with your availability and shirt size.
Crews, Family and Friends:
Bring chair to sit and cheer on your runners. There is a small zoo across the park for your little ones.
Course records:
Marathon: Jeffe Mescal 2:58
Half marathon: Gabriel Moss 1:51