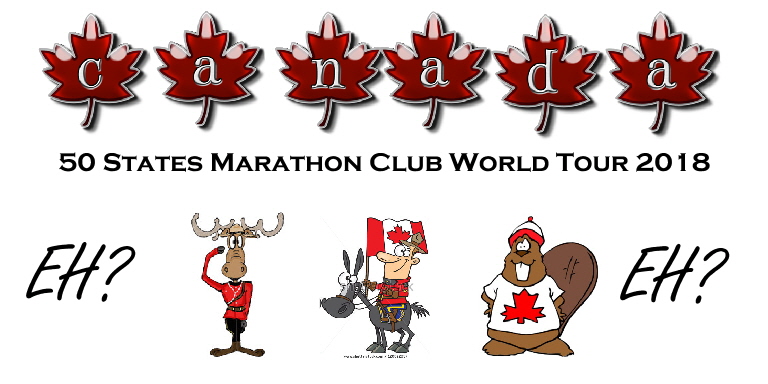 For trip details, please contact Steve Boone steveboone@aol.com

Suggested Itinerary: (subject to modification)

Thursday 9/6/18 Arrive in Regina
Suggested hotel: Holiday Inn Express Regina Downtown
1907 11th Avenue
Regina, SK S4P0J2

Friday 9/7/18
* Tour both tunnels in Moose Jaw (Al Capone's moonshine tunnel and Passage to Fortune)
* Lunch in Moose Jaw
* In the afternon go to the expo (Expo is Friday and Saturday)
* Dinner
* Participate in the Night Owl 5K at 8 PM or free time (casino or show)

Saturday 9/8/18
* Tour of Regina
***Legislative Building
***Royal Saskatchewan Museum
***RCMP(Royal Canadian Mounted Police-Mounties) Heritage Centre
***Government House
*Participate in the Family 5K at 2 PM
*Reunion meeting (located at expo)
*Group Pasta Dinner

Sunday 9/9/18
*Race Day
*Celebration Dinner

Monday 9/10/18 Return home
World Tour Travelers:
Dave Bell
Paula & Steve Boone
Derek Boutang
Gene Bowden
Cathy Bradford
Janet & Jim Burgess
Jane & Jeff Burleson
Beth Davenport
Tania Diener & Jan Steenkamp
Lora Eklund
Samy El-Guebaly
Rick Franks
Bob Jacobowski
Deb Lazaroff
Deb Lazerson
Drew Markham
Jim & Lisa Moore
Kelly & Mike Pfannenstiel
Blaine Phillips
Gay Renouf
David Rikke
Thomas Roehlk
Dan Ruiz
Jeanette & JC Santa Teresa
Elizabeth Wallace
Darwin & Terry Weimer (our hosts)

Race Details: http://runqcm.com/

Marathon Highlights:
*Start and finish along the Trans Canada Trail
*See your state flag flying at the start/finish line
*Listen to the Canadian anthem sung in Cree
*Run over the longest bridge across the shortest body of water in the world
*Run through one of the largest urban parks in North America
*Run past the orginal Trafalgar Fountains which was gifted to the Canana by the People of England
*Earn 3 medals for 2 races (Scribbly Challenge)
*Earn 4 medals for 3 races (Scribbly Cubed)

Fun Facts about Regina, SK
*Where all the RCMP officers in Canada are trained
*Named after Queen Vitoria from Britain
*Province was part of the Northwest Territories prior to 1905
*Originally called "Pile of Bones" or Oskana-Ka-asateki (the place where bones are piled) by Cree hunters
*One of the largest urban parks in North America (bigger than Central Park in New York) - 930 hectares or 9.3 square km
*Longest bridge over the shortest span of water in the world - 256 meters long -Built in 1930 and designed as a relief project during the Great Depression
*Every tree in the city was planted by hand.

US Passport needed to travel to Canada

Etc.
Canadian currency is the Canadian Dollar ($)
To see the current exchange rate: Bank of Canada
There is a $1 and $2 coin called the loonie and toonie (seriously)
Canada uses the metric system. Mostly.
Regina, SK is in the CST time zone. In September it will still be CST, and not CDT, so it will be an hour ahead of CDT.
The outlets are the same as the US.
No special vaccinations are required.